All my events are posted on  Facebook &  Twitter


To register FOR CLASSES AND RETREATS: go to MARECHAPMAN.com
MAY 30, 2020
Live Online Webinar
Unlearning Internalized Misogyny through Mindfulness…
taking on feminism's unfinished business.Excited to offer this course now conducted as Live Online Zoom Webinar! –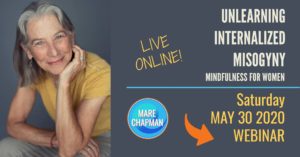 COURSE DESCRIPTION:
It is blatantly clear that misogyny and sexism remain deeply embedded in our society. Though we're working towards gender equality, we can UNLEARN the negative conditioning shaped by societal beliefs and norms which keep us caught in habits of oppression. This is what I call "feminism's unfinished business."
As women, many of us can relate to these habits:
> discounting our authentic experience,
> giving our power away,
> striving to be pleasing and perfect,
> depending on others instead of ourselves for validation and approval.
Believing we aren't enough, the habit of "othering" breeds self-doubt, insecurity, chronic anxiety, depression, and patterns that keep us small.
Mindfulness gently frees the mind from conditioned habits, and heals our relationship with ourselves. In this day-long workshop we'll learn:
> core principles of mindfulness practice,
> specific practices to help free us from othering,
> how to identify internalized misogynistic messages inherent in patriarchy
> ways to gain inner stability,
> build trust in our authentic self to live fully empowered lives.
I hope you will join us for this powerful offering to explore and do the necessary inner work to free our minds and hearts from the ways we unintentionally oppress ourselves. Workshop includes helpful 'ownwork' sheets and handouts.
– – PAST EVENTS – – 
Tuesday, MARCH 24  Check your time zone – starts at 12:30 PM EST
FREE Online Learning Seminar with A Mindful Society Transforming Our Internalized Misogyny: Mindfulness for Women  REGISTER
SEPT 19-22 2019 – Transforming Internalized Misogyny- Mare will be in Washington DC Metro area offering workshops and presentations in the works at Georgetown University and Insight Meditation Community of Washington (IMCW)
Click for more info: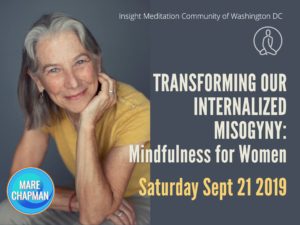 MAY 2019
A Mindful Society Conference 2019 – MAY 24 – 27, 2019 | TORONTO | CANADA
A Mindful Society is an annual conference for professionals, organizations, and the curious interested in applying mindfulness to work and life.
Mare will be presenting a workshop: Transforming Our Internalized Misogyny: Mindfulness For Women
WATCH  their website for updated times and dates  – https://amindfulsociety.org/
March 30 – April 06, 2019
Mare will be away studying in residential retreat at Insight Meditation Society in Barre, Massachusetts Women in Meditation: Insight Meditation Retreat – WOM
MARCH 7, 2019 – Fierce Compassion in Action for International Women's Day, and a fundraiser for Dane Co. Rape Crisis Center
https://www.eventbrite.com/e/fierce-compassion-in-action-with-mare-chapman-registration-53894554062#
 – –
OCT 24 2018  Unshakeable Confidence: an Evening with Mare Chapman
7 – 8 PM
Central Library
Reading, book signing and sales
https://www.facebook.com/events/220895118612179/
https://www.madisonpubliclibrary.org/events/unshakeable-confidence-evening-mare-chapman-1192097
 – –
DECEMBER 14-16, 2018  Deepening Trust in Ourselves – Women's Retreat
at Holy Wisdom Monastery, Middleton, WI
Register:
https://www.facebook.com/events/901634283363090/
https://www.marechapman.com/meditation-retreats
Sat. September 29, 2018 UNSHAKEABLE CONFIDENCE – one day immersion
Time  9:00 AM – 4:30 PM, lunch on your own
Cost  $105/85 payment 10 days in advance
at Infinity Foundation in the Chicagoland area
https://www.facebook.com/events/2004713389579513/
http://infinityfoundation.org/courses/personal-spiritual-growth/unshakeable-confidence.aspx
OCT 4 2018 Mindfulness for Women, Reading, book signing and sales
6:30 – 7:30 PM
Alicia Ashman Neighborhood Library
Madison Public Library
733 N High Point Rd
Madison, WI 53717
608-824-1780
https://www.facebook.com/events/244826152914668/
https://www.madisonpubliclibrary.org/events/mindfulness-women-1191034
August 8 2018 – Radio interview with Dr. Christiane Northrup on her show FLOURISH!
HayHouseRadio, 11AM EST
https://www.hayhouseradio.com/#!/host/dr-christiane-northrup